Dr. Peter Conlon, BSc (Agr), MSc, PhD, DVM, MEd
Director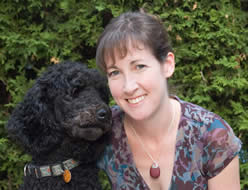 Dr. Shannon Gowland, DVM
Veterinarian
Shannon graduated from the Ontario Veterinary College in 1995 and began her career working in a 24 hour practice in Ottawa, Ontario. She has worked in a wide variety of practice settings and enjoys many aspects of general practice including internal and preventive medicine, emergency medicine, senior pet care, anesthesia and soft tissue surgery. Shannon has also developed a special interest in working with birds and small mammals. Her passion for general practice is fueled by the endless variety of pets and people she encounters every day.
Shannon loves to spend time with her husband Jim and does her best to keep up with their two children, Fiona and Ben, their two cats Gus and Calvin, and India, a Standard Poodle. Shannon is a keen cyclist and an avid reader. She also enjoys swimming, camping, canoeing and cross-country skiing.
Dr. Tiffany Durzi, DVM, CVA. CCRT. CVPP
Veterinarian
Tiffany graduated from the Ontario Veterinary College in 2000 and began her career working at a mixed animal practice in Southern Ontario. In 2001 she moved to the Cayman Islands where she practiced small animal medicine and surgery for 7 1/2 years. In 2009 she joined the faculty at St. Matthew's University School of Veterinary Medicine in Grand Cayman where she directed the Clinical Teaching Facility and coordinated the small animal surgery program. In 2010 she returned to the Ontario Veterinary College, this time to take a position as a clinical veterinarian at the Companion Animal Hospital located in the Hill's Pet Nutrition Primary Healthcare Centre.
Over the years, Tiffany has also developed a special interest in integrative medicine. She has completed her Certified Veterinary Acupuncture (CVA) through the International Veterinary Acupuncture Society (IVAS) and she is a newly Certified Canine Rehabilitation Therapist (CCRT) through the Canine Rehabilitation Institute (CRI). She is particularly interested in pain management for geriatric and overweight pets, and has completed her designation as a Certified Veterinary Pain Management Practitioner (CVPP) through the International Veterinary Academy of Pain Management (IVAPM).
Our Veterinary Technicians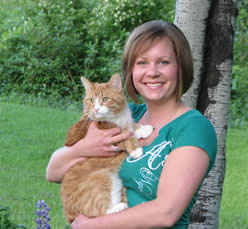 Andrea Alexander, RVT
Registered Veterinary Technician
Andrea graduated from St. Clair College in 2004. She began her career working in small animal private practice. Andrea's passion for animals and love of adventure lead her on a trip to South Africa in 2007. There, not only was she was involved in educating local villages on proper companion animal health and wellness, but went on safari as well. While on safari she studied wildlife rehabilitation and took part in real game capture for medical and relocating purposes. Andrea is constantly striving to expand her knowledge. This naturally led her to OVC where she began working in 2007. Since working at OVC she has served as a technician in the Small Animal Intensive Care Unit/Emergency services, Small Animal Wards, Radiology, and has also provided service as an Emergency Referral Co-ordinator. Since the opening of the Primary Healthcare Centre in 2010, Andrea has been one of our full-time general medicine technicians. During this time she sparked an interest in Canine Physical Rehabilitation and headed back to school in 2012 to become a Certified Canine Rehabilitation Assistant (CCRA). This seemed like such a natural path for her career to take as she has always been most passionate about the nursing care and patient relationship aspect of her job. Andrea appreciates the support of her husband Dustyn, her family and friends.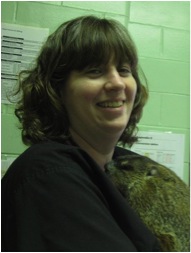 Bonnie Wakefield, RVT
Registered Veterinary Technician
Bonnie is a Registered Veterinary Technician who has been working in the Animal Health Field for a really long time. She has worked at The University of Guelph since 2008 and held positions in The Intensive Care Unit, Small Animal Wards and Avian/Exotics before coming to the OVC Companion Animal Hospial in 2010. She has a particular interest in pet nutriton and would love to have a discussion with you about making the best nutrition choices for your pet.