Our rehabilitation service team includes a veterinarian and registered veterinary technician, who are certified in Canine Rehabilitation Therapy.
Tiffany Durzi, DVM, CVA, CCRT, CVPP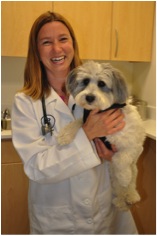 Tiffany graduated from the Ontario Veterinary College in 2000 and has been a small animal practitioner since that time. Tiffany has been a veterinarian at the OVC Smith Lane Animal Hospital since 2010, and with the OVC Fitness and Rehabilitation Service since 2013.
Over the years, Tiffany developed a special interest in integrative medicine. She has completed her Certified Veterinary Acupuncture (CVA) through the International Veterinary Acupuncture Society (IVAS) and she is a Certified Canine Rehabilitation Therapist (CCRT) through the Canine Rehabilitation Institute (CRI). She is particularly interested in pain management for geriatric and overweight pets, and has completed her designation as a Certified Veterinary Pain Management Practitioner (CVPP) through the International Veterinary Academy of Pain Management (IVAPM).
Andrea Alexander, RVT, CCRA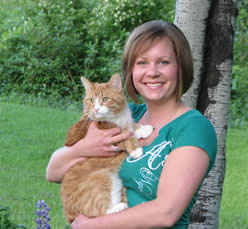 Andrea graduated from St. Clair College in 2004. She began her career working in small animal private practice. She has worked at OVC since 2007, and has served as a technician in the Small Animal Intensive Care Unit/Emergency services, Small Animal Wards, Radiology, and has also provided service as an Emergency Referral Co-ordinator. Since the opening of the Primary Healthcare Centre in 2010, Andrea has been one of our full-time general medicine technicians. During this time she sparked an interest in Canine Physical Rehabilitation and headed back to school in 2012 to become a Certified Canine Rehabilitation Assistant (CCRA). This seemed like such a natural path for her career to take as she has always been most passionate about the nursing care and patient relationship aspect of her job. Andrea appreciates the support of her husband Dustyn, her family and friends.
Janine Ross RVT, CCRP
Janine joined our team in the winter of 2015. Janine graduated from the veterinary technician program at Seneca College in 2007. Janine has experience in small animal and laboratory medicine. She has had the pleasure of working with domestic and exotic animals in Australia and South Africa. Janine has always had a strong interest in canine rehabilitation. As a result, she received her certification in canine rehabilitation at the University of Tennessee in 2014. When Janine is not working, she enjoys spending time with her two dogs, Toto and Diesel, and taking dance classes. Janine absolutely loves her job as a veterinary technician and rehabilitation practitioner. She appreciates the privilege of caring for animals on a daily basis.